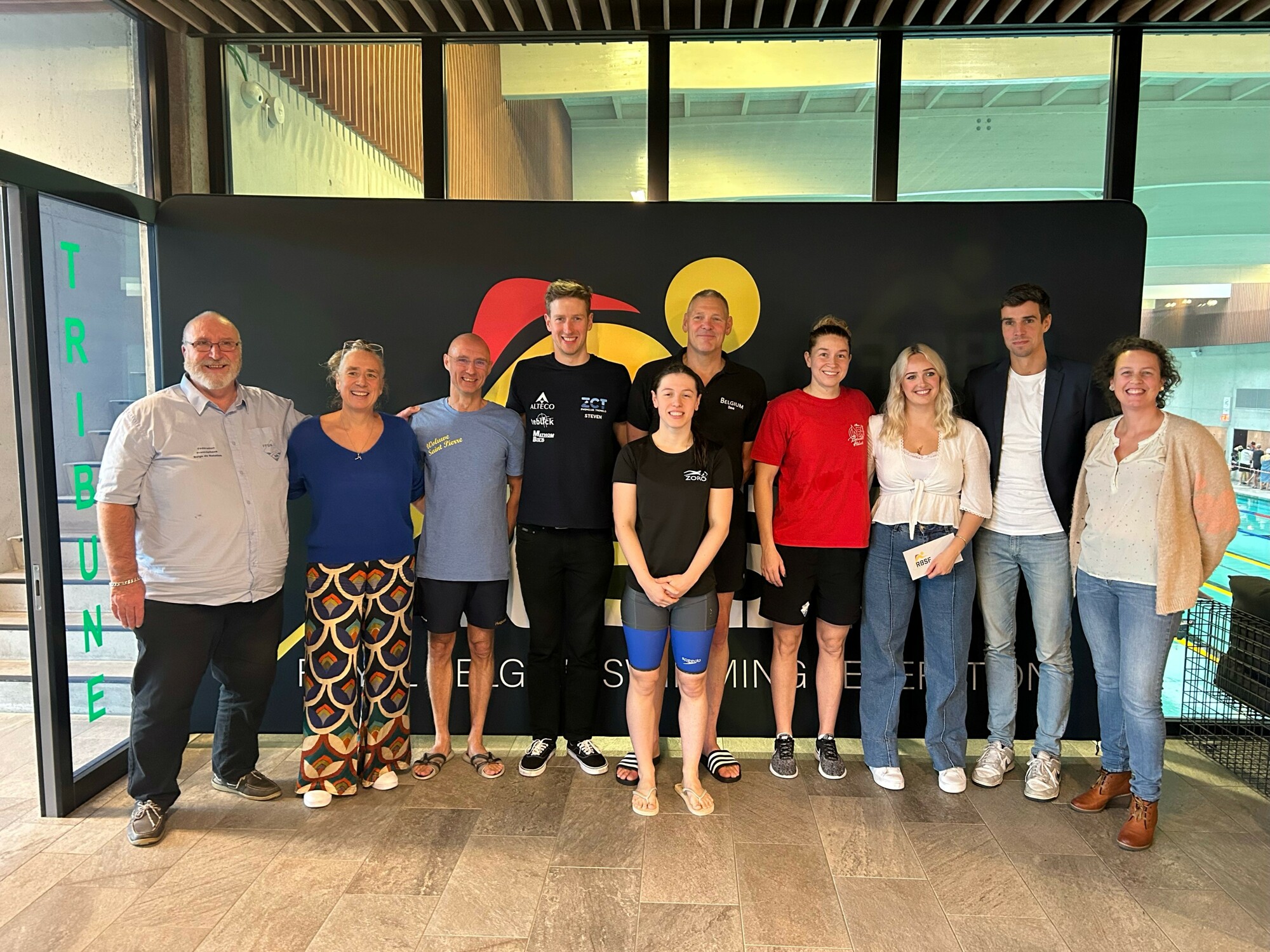 During the past weekend 4 and 5 November 2023, the Belgian swimming championships Masters were organised in Kortrijk by club KZK Spurs.
On Saturday, we honoured our Masters swimmers who participated in the World Championships in Fukuoka! They deserve this and we are proud that they represented Belgium with great performances. 11 medals were taken home this summer! 1 Gold medal in the men's 3K open water event, Steven Claes then became World Champion in his age category.
We managed to bring home 10 medals (indoor pool) thanks to the excellent form of Caroline Cavadini (4 medals, including 1 gold medal), Soetkin Janssens (2 silver medals), Alyssa Hennebert (bronze), Erika Van Dessel (silver and bronze), Steven Claes (bronze).
3 Belgian records were also broken and many best times were recorded at that time. The atmosphere was extremely good in the team and we are looking forward to the future!
In Kortrijk, at the BC, no less than 24 Belgian Records, 3 European Records and 3 World Records were broken.
Agnes Van Obberghen (CNSW) managed to swim both an ER and a WR on the three breaststroke distances (50,100 and 200m), just like last year. Phenomenal performance from this 92-year-old crane lady! Congratulations Agnes!
Furthermore, we saw great performances from the following swimmers:
24 BELGIAN RECORDS
Lisa Vrielinck 30-34 years 50 breaststroke
Agnes Van Obberghen 90-94 years olds 50 & 100 breaststroke
Joke De Temmerman 40-44 year-olds 50 & 100 breaststroke
Maaike Ramael 25-29 year olds 50 butterfly stroke
Stephanie Vaernewijck 40-44 year-olds 100 butterfly, 100 backstroke, 400 medley
Katrien Delaender 55-59 year-olds 50 freestyle
François Bockstaele 55-59 year olds 50, 100 and 200 backstroke & 400 medley
Bruno Claeys 40-44 year olds 50 and 100 backstroke
Peter Hanssens 60-64 year-olds 50 breaststroke
Jean-Marie Cadiat 70-74 year-olds 50 and 100 butterfly, 200 and 400 freestyle, 200 breaststroke
Frederique Tonus 50-54 year olds 400 freestyle
Gustave Lempereur 80-84 year-olds 200 breaststroke
Congratulations to all the Masters on their great performances!
Thanks to all the volunteers, officials, judges for making this championship a great competition.
Back to overview